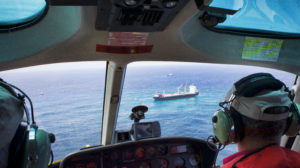 Geraint has just returned from New Caledonia where he was contracted by the leading international salvage company Ardent, as Operations Manager for the second phase of the recovery of the container ship Kea Trader.
As the vessel is hard aground 90 nautical miles off shore, this is a tremendously challenging operation calling for the very best salvage expertise and resources.  The Ardent team recently completed the removal of 3500 tonnes of heavy fuel oil and 250 containers by means of heavy lift helicopter – a world first. Given the open sea environment, conditions for tug and barge operations are demanding expert seamanship and skill by the salvors' team and crews of the contracted on-water assets.  The skill and expert operations has protected the UNESCO recognised reef environment from contamination.
Work continues to regain sufficient buoyancy to enable a refloat of the vessel in the near future.
Geraint says that it has been a great privilege to be embedded in Ardent's expert team.