The Flight 703 Tragedy

On 11th February 2018 Flight 703, Antonov-148 100B of Saratov Airlines, departed Moscow on a regular service to Orsk. The seven-year-old aircraft (shown above) departed Domodedovo Airport at 1421. Six minutes after departure the aircraft crashed near Argonovo village tragically killing all 71 people on board. The Russian Federation Interstate Aviation Committee (IAC) immediately began an investigation in accordance with ICAO Annex 13.
The meteorological actual weather report (METAR) three hours before departure reported -5 degC and snow showers at Domodedovo Airport. Russian News Agency RNS alleged the pilot of Flight 703 declined aircraft de-icing before departure. On 13 Feb The IAC released an initial report from data obtained from the Flight Data Recorder (FDR). The FDR recording showed that all three pitot probe heaters were switched off for departure. The pitot probes had been switched on for all of the other 16 flights recorded on the FDR. Two and a half minutes after take-off, increasing airspeed discrepancies were displayed to the pilots. They took manual control but the discrepancies continued to increase until 34 seconds later one airspeed unit showed zero airspeed while the other showed 540-560 kph. The aircraft was being manually flown when it pitched 30 deg nosed down and held that attitude until impact. Within hours of the crash the Ministry of Transport announced two theories; weather conditions and human factors.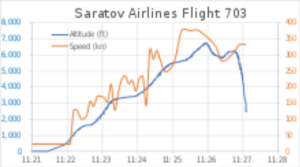 The IAC initial report states "Based on the analysis of the recorded data and the studies of similar accidents in past, it could be concluded that the inflight emergency situation might have been caused by the incorrect speed readings shown on the cockpit instrument panel, which in their turn could be related to the Pitot probes' iced condition with the heating system set to OFF" – Interstate Aviation Committee
On March 6, the RBC news agency reported details of the accident claiming they were taken from the Cockpit Voice Recorder (CVR) transcript. The RBC stated the authenticity of the transcritpt was confirmed by the Federal Air Transport Agency (Rosaviatsia) and the IAC. The RBC report stated the CVR transcript revealed that the "the commander shouts after a terse exchange with the co-pilot, apparently over the aircraft speed and direction".
Human Factors affect everything we do – our decisions and actions
The international Ergonomics Association defines human factors as, "the scientific discipline concerned with the understanding of interactions among humans and other elements of a system, and the profession that applies theory, principles, data and methods to design to optimize human well-being and overall system performance." – International Ergonomics Association
The sophistication of modern aviation automation, the levels of reliability, protection and redundancy and the heavy reliance upon it, means the human component of accidents is becoming increasingly apparent. This relates to any high-risk operation or organisation where technical design meets human behaviour. Statistics from a number of industrial sectors have indicated that up to 80% of accident causes can be attributed to human factors. The science of Human Factors has grown beyond aviation to benefit other industries where complex human activity systems, person-person and team interactions, or Human System Interface (HSI) design issues can affect safety.
Modern systems and particularly those that automate actions have become more complex, more pervasive, and have more designed-in defences against failure. A consequence of complex and highly protected systems is it becomes increasingly hard for operators to understand what the systems are trying to do and to diagnose what is happening when something goes wrong.
It is now normal for many operators of complex semi-automated and automated systems across many sectors to be trained in Human Factors and to have improved self-awareness of human behaviours. Human factors has been shown to be an important factor in team and individual situations.  Terms such as Crew Resource Management (aviation flight decks) and Bridge Resource Management (Ship bridge teams) are now well established. Advanced understanding, design of systems and procedures and training of teams leads both to improved personal and team performance ass well as improved overall safety.
See also Navigatus Post: http://www.navigatusconsulting.com/risk-analysis-complex-systems-human-factors-component/
https://www.rferl.org/a/russia-black-box-transcript-airliner-crash-moscow/29083037.html
http://www.iea.cc/whats/index.html
Rhona Flin, Paul O'Connor and Margaret Crichton. (2008) Safety at the Sharp End – A Guide to Non-Technical Skills. Ashgate, Farnham, Surrey.
https://www.skybrary.aero/index.php/Portal:Human_Factors
Reason, James (1990, 2009 ed.) Human Error. Cambridge University Press.