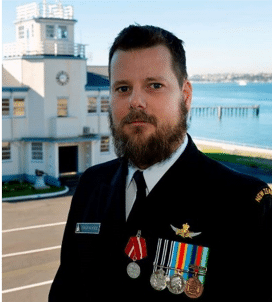 Navigatus is very pleased to advise current and future clients, that Duncan MacKenzie has joined our Auckland based team.  While he will be based in the Auckland office, given the level of maritime knowledge and recent defence force experience, his expertise is already being applied across New Zealand including in Auckland, the Cook Strait and Fiordland areas.
Duncan has had extensive seamanship, leadership and management experience with the Royal New Zealand Navy – consolidated in a range of theatres including Australia, the Pacific, Asia, Europe and the Middle East – that has led to the development of an adaptable and balanced approach to complex challenges. As an expert mariner he has immediately shown a confidence that comes with experience and deep knowledge. Despite only being with Navigatus for a little over a month, he is already helping clients meet their objectives associated with the challenging maritime environment as well as the use of new and yet to be fully proven technology.
Duncan's last role with the Navy was as Head of Navigation Training.  In this role he was responsible for the training personnel at all levels of the RNZN in the dark arts of navigation.
Having joined the team in mid-January, he is already offering invaluable advice in support of the Downtown Joint Venture as well as New Zealand King Salmon in the South Island.
We welcome Duncan to our team and look forward to introducing him to our clients.